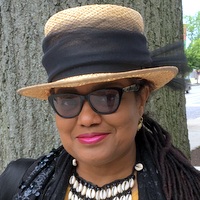 Kittura Dior - Empowering Small Business Owners, Plus Caribbean & Family Stories
Take a dynamic trip inside Power Up Your Business — a free, successful, innovative program run by the Community College of Philadelphia with city funding. Small business owners learn from experts, peers, and coaches, gaining insights and practical skills they apply to grow their businesses.
Hear Kittura's expressive narration of small business stories and challenges, the unexpected bounty of city resources, and on-the-ground reports from walking commercial corridors across the city.
Along the way enjoy evocative stories of her journey — life in the Caribbean, selling high-end jewelry, and the rich history of her Mount Airy family.

Podcast website: https://nwphillypodcast.net
More about Power Up Your Business and Kittura Dior: